---
SPOTLIGHT: Aero Road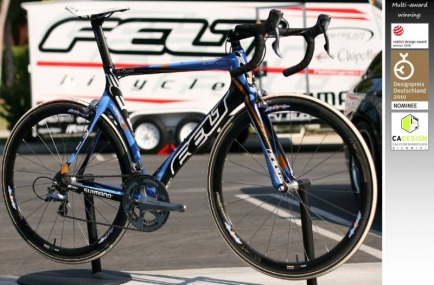 The AR received multiple international and domestic honors from the art and design world in recognition of its innovative combination of head turning styling and efficiency as a vehicle.
Felt's aerodynamic racing rig has been selected by Germany's Design Zentrum Nordrhein Westfalen from products in all industries to receive the 'Red Dot Award: Product Design 2010'. The award is presented to products released which exhibit superiority of design in aspects, including innovation, functionality, ergonomics, ecology and durability.
With more than 12,000 entries from more than 60 nations the Red Dot is the biggest design competition in the world today. The AR1 will be displayed in the permanent exhibition of the Red Dot Design Museums in Essen, Germany and Singapore from July 5th. Tim Lane, the Design Engineer behind Felts AR series said "this really is a fantastic honor, the Red Dot awards are like the Oscars of the design world. I had no idea that my work had even been nominated for an award".
For further information on the Red Dot Design Award:
http://www.red-dot.org/
The AR has apparently also caught the eye of the German Federal Ministry of Economics and Technology who nominated the bike to receive the Design Award of the Federal Republic of Germany (Designpreis Deutschland).
T
he German Design Award is the country's highest distinction in the field of design. It is generally known as the 'Prize of Prizes' because no other design award sets such strict criteria on its entries. A design can only be entered in the competition if it has already been awarded a national or international design prize; since only 25 product design awards are granted, this is even more prestigious than the Red Dot award.
For further information on the German Design Award:
http://www.designpreis.de/en
On a domestic front, this windcheating bicycle has been chosen by curator Stewart Reed, Chair of the world-renowned Transportation Design Department at Art Center College of Design for display in the Pasadena Museum of California Art. The 'California Design Biennial' exhibition will open on July 17th (thru November 1), highlighting the most significant and innovative designs being created in
California
.
For further information on the California Design Biennial: Action/Reaction:
http://www.pmcaonline.org/
This bike is more than just a looker, the AR's slippery design really delivers; Allen Lim, (the Garmin/Slipstream team physiologist) blogged that the reduction in aerodynamic drag which Will Frischkorn experienced in stage 3 of the 2008 Tour de France probably saved him 15-20 watts as he drove a 207km breakaway through rain and gusty cross winds to finish in 2nd place, the best Tour stage result that the Garmin/Slipstream team have yet achieved.
For further information on the Garmin/Slipstream team:
http://www.slipstreamsports.com/2008/07/08/tour-stage-3-wills-aero-advantage
Tim Lane conceived of the frames features and design, including industrial design, engineering, development of new manufacturing processes.
---
---
SPOTLIGHT: Revolutionary TT design.
The introduction of the DA marked the turning point in the industry toward holistically designed TT superbikes.
Tim Lane conceived of the frame features and design, and did industrial design, engineering, development of new manufacturing processes, published and prosecuted multiple patents.
The highlight features and competitive time line are described in this image: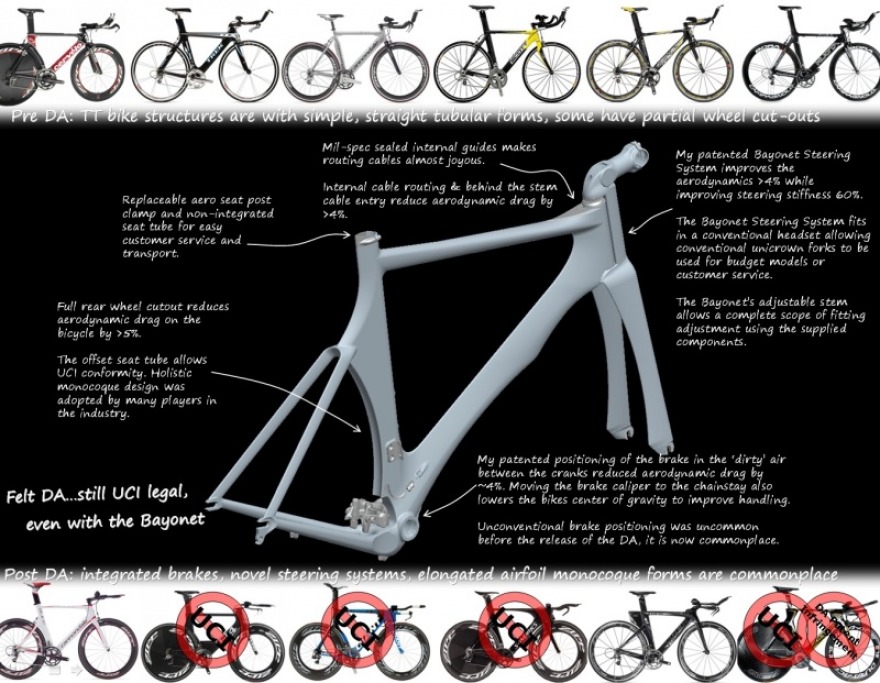 ---